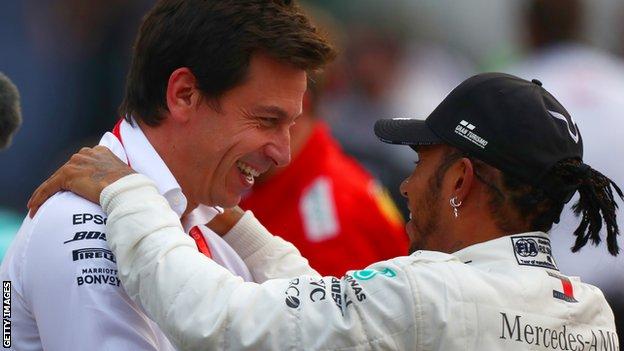 World champions Mercedes have reached an impasse with Formula 1 in negotiations over a new contract to stay in the sport after this season.
Mercedes F1 boss Toto Wolff said he believed they were "the biggest victim in terms of revenue loss" in the new financial arrangements proposed by F1.
He added they had concerns over "legal, commercial and sporting" issues.
Wolff's comments raise the possibility – however distant – that Mercedes might not continue in F1 beyond this season.
The deadline by which Mercedes has to commit to F1 is 12 August.
The company is committed to F1 and wishes to stay involved – indeed it this week re-signed Valtteri Bottas for the 2021 season – but Wolff's comments betray an unhappiness with the terms on offer.
He said that he had not seen a willingness to compromise from F1.
"If you are prepared to sit at a table and discuss the topics and come to a compromise," Wolff said, "we are close (to an agreement), but I haven't seen that approach."
A spokesperson for F1 said: "F1 has engaged with all teams in a collaborative and constructive way and listened to all their views.
"This agreement is important for the future of the sport and all our fans. We are moving forward with this and will not be delayed any longer."
The stand-off between F1 and Mercedes is potentially risky for the sport's owners, as not only is Mercedes its most successful team and employs its most famous and successful driver, but it is also due to supply engines to three other teams in 2021 – McLaren, Racing Point and Williams.
F1's owner Liberty Media has revised the financial structures of the sport for 2021, to bring in a new era following the end of contracts teams negotiated with former boss Bernie Ecclestone.
The new deal is designed to end what many consider to be an unfair revenue system, whereby the top teams earn disproportionately more prize money, a system that has created a disparity in competitiveness down the grid and locked in an advantage for Mercedes, Ferrari and Red Bull.
The 2021 arrangement – which has not been made public – reduces the disparity between big teams and small.
However, Wolff said that while Ferrari's historic importance to the sport had been reflected in their new deal, he believed the same approach had not been applied to Mercedes.
Under the new deal, insiders say there is still a sliding scale of prize money whereby the most successful teams earn the most and the least successful the least, but the disparities between each of the 10 figures is reduced.
The idea is to try to level the competitive playing field and produce closer racing.
The key change is that F1 has removed a part of the prize-money system that gives bonuses to some of the teams on the basis of their longevity in the sport and their historic success.
Under this system, Ferrari earned last year about an additional $110m, Mercedes and Red Bull more than $70m, McLaren about $30m and Williams $10m.
All those payments have been removed from next year, and replaced by a new system, which will reward Ferrari $40m extra for their historic importance to the sport, and the companies that supply engines $10m each.