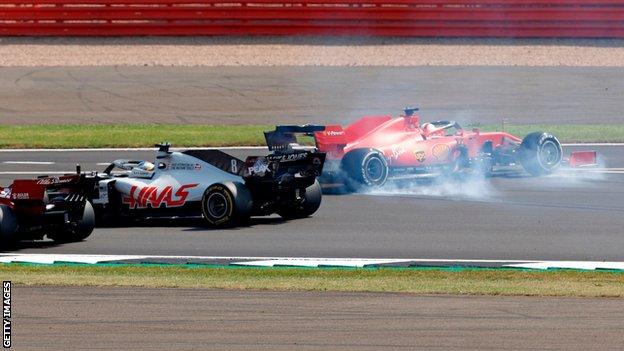 Sebastian Vettel will have a new chassis for the Spanish Grand Prix this weekend after Ferrari discovered a "small fault" in his car.
The German struggled in comparison to team-mate Charles Leclerc in the last two races at Silverstone.
Ferrari said they discovered a problem with his monocoque after the 70th Anniversary Grand Prix on Sunday.
Head of chassis engineering Simone Resta said: "It would not have had much of an effect on performance."
But Resta said replacing the monocoque was a "logical decision to take" after the team "spotted a small fault caused by a heavy impact over a kerb" during their post-race analysis.
Vettel wrecked his race on Sunday with a first-lap spin when he went over the inside kerb at the first corner.
He had been just under 0.4 seconds slower than Leclerc in qualifying, an improvement from the British Grand Prix the previous weekend when Vettel had been nearly a second behind.
Leclerc took a third and fourth place from the two races at Silverstone while Vettel was 10th in the British GP and 12th in the 70th Anniversary event.
Resta said the Spanish Grand Prix, held on the same track that hosts pre-season testing, would "not be an easy weekend for us".
Vettel said: "This circuit is quite different to Silverstone and I am curious to find out how the car will feel here. We can expect very high temperatures and so it will be important to find a set-up that allows you to have good speed without causing excessive tyre wear.
Leclerc said: "The Barcelona track is a classic. Every year we do so many kilometres here in testing and therefore we can say it has no secrets.
"However, this year, as we will be racing here in the height of summer it will be interesting to see how our car performs in really hot weather.
"As was the case in the two Silverstone races, tyre management will be very important.
"It's something we worked on a lot and in England it paid off. It will be important not to make any mistakes in qualifying to try and get the most out of the car in race configuration."