Be careful writing off the Boston Celtics. Our memories get short. The Celtics just took a 2-0 lead over the Toronto Raptors and barely hung on in seven games. The Denver Nuggets have rallied from two 3-1 deficits.
Boston had late leads in both Games 1 and 2 of the Eastern Conference finals. They need Game 3 more than the Miami Heat and should bring season-on-the-line desperation.
But the Heat are playing greedy. They didn't need Game 3 of the last round as much as the Milwaukee Bucks did; they took it anyway. The Heat are 10-1 in the playoffs. They are relentless — steely in the face of big deficits, impossible to rattle.
WATCH: Game 3, Sat., 8:30 p.m. ET, ESPN and the ESPN App
Boston can make dozens of small tweaks, but they aren't getting back into this series unless those tweaks add up to changing two basic things:
Figuring out Miami's zone
The Heat's zone is an ingenious, evolving creature. Miami has played 837 possessions of zone this season, almost double the No. 2 team, per Second Spectrum data. The Heat zone has an interesting backstory that hasn't been fleshed out.
The Heat played only 48 possessions of zone in 2017-18, per Second Spectrum. They barely played it at all last season, until a Dec. 8 game against the LA Clippers when the Heat had only nine healthy players. Erik Spoelstra junked things up with a zone. Derrick Jones Jr. logged 25 minutes at the top of it after being out of the rotation until that point. Miami played 43 possessions of zone in that game — more than they had played combined all season prior.
"That day," Jones once told me, "gave me the confidence that I was here to stay." So was the zone.
Jimmy Butler and Jae Crowder played atop Miami's zone for most of Game 2, as the Heat played 31 zone possessions and held Boston to 0.968 points per possession, according to Second Spectrum. Butler and Crowder are ball hawks with a keen sense of timing for when to jump passing lanes, and when to dip back to cut off drives. Every pass around the perimeter is an adventure.
With Bam Adebayo in the middle, the Heat center the zone around a formidable triangle of defenders: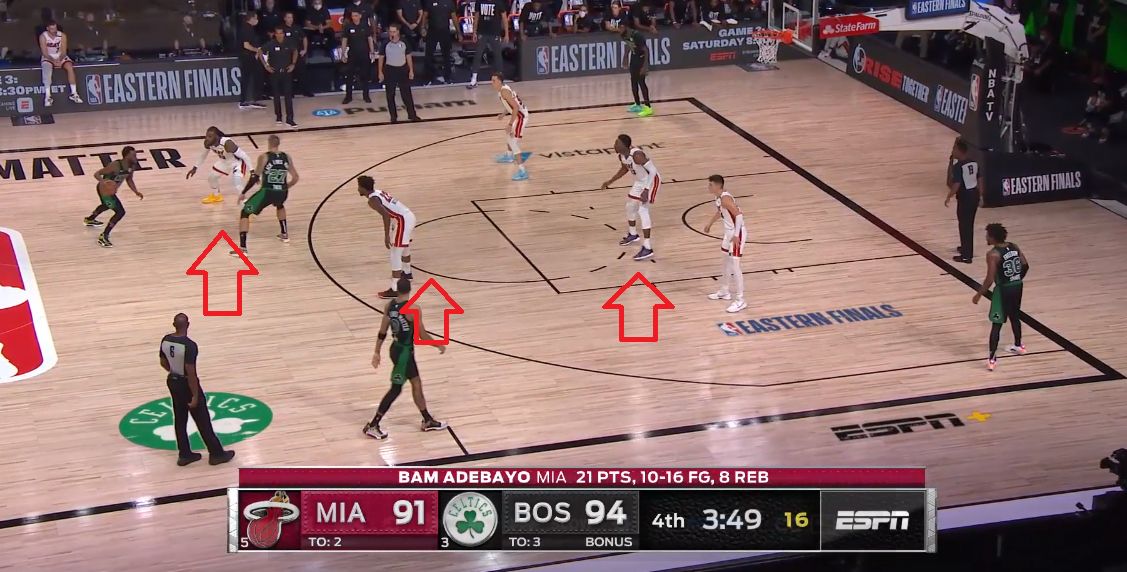 There are entire books and coaches' clinics devoted to attacking zones. Some of the simplest methods involve using normal pieces of your offense as if the zone does not exist: Run a pick-and-roll up top, or find a mismatch and play one-on-one.
The alignment of the Heat's zone makes both tactics difficult by vaporizing the middle of the court — the location of most pick-and-rolls, and the area from which ball handlers have the juiciest passing options. Butler and Crowder can switch two-man actions at the top. Adebayo joins in if required.
A trickle-down effect of slotting Miami's best perimeter defenders at the top is that its weakest ones are hidden in the corners. If you want to hunt an isolation for Jayson Tatum against Tyler Herro, you have to do it from the coffin corner — where the baseline and sideline act as extra defenders:

There are no easy passing lanes there. Miami can overload Tatum's side of the floor, leaving only crosscourt passes that remain airborne long enough for the Heat to rotate and reset.
You can bet Brad Stevens and his staff have spent the past couple of days going over every counter. Getting Gordon Hayward back would be huge. It is unreasonable to expect Hayward to bring peak explosion right away, but Hayward taking 18 minutes from backups would help.
His playmaking style is tailor-made for zones. He is good at making connecting passes in the flow. Hayward also is a threat to score, and a sneaky cutter. Another steady ball handler would reduce the chances of Boston barfing up anything close to the 20 turnovers it committed in Game 2. Boston ranked eighth in forcing turnovers; it needs to play the turnover game to at least a draw.
Beyond that, Boston has to engage those weaker Miami defenders on the sidelines. The Heat have those guys slide up from the corner — sometimes almost to the coach's box — when the action swings there. If Boston can bait that rotation in ways that create a sideline 2-on-1, they might be able to generate corner 3s and drive-and-kick sequences that puncture the heart of the zone: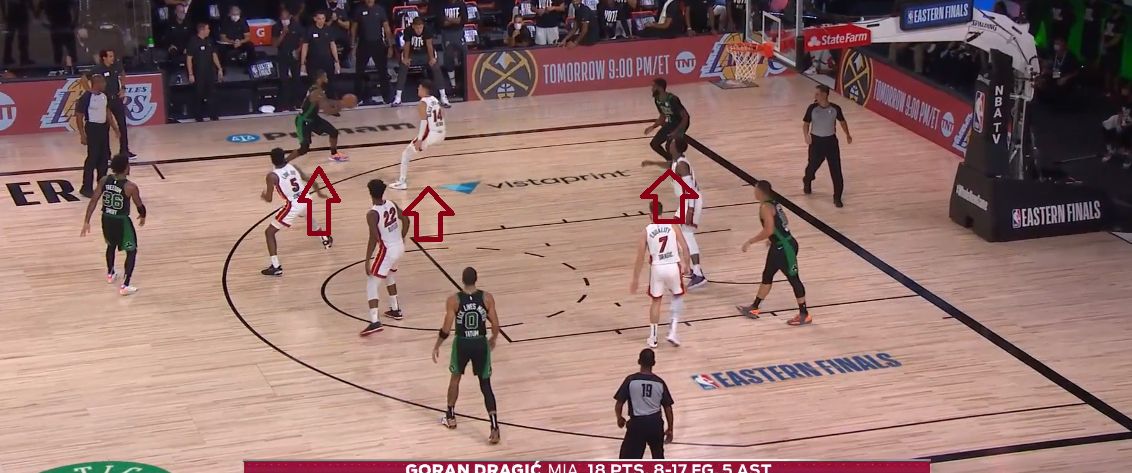 Jaylen Brown's potential game-tying 3 in the last minute of Game 2 came via that kind of pass. Those corner guys have free runs to the offensive glass.
Boston's shooters have to catch and fire. They looked skittish in Game 2. They heard the approaching footsteps of long, mean defenders. But Tatum and Kemba Walker need to let it fly with the brashness of Marcus Smart.
Stationing all five players around the arc would make it impossible for Adebayo to loiter in the paint without committing a defensive three-second violation. Daniel Theis is capable on wide-open 3s. Grant Williams is 9-of-14 from deep in the playoffs, after hitting just 25% in the regular season.
If Hayward returns, Boston could play its five best players — Walker, Smart, Brown, Hayward, Tatum — in a centerless alignment that might help on the other end too. Alternatively, Robert Williams III, whom Stevens benched in Game 2, could lurk as a lob threat behind the zone.
If Miami unleashes three-quarter pressure as a prelude to its zone, Boston can try to spring Walker with picks at half-court — giving him a runway to bust the zone before Miami locks it in. (The Celtics tried this a few times.)
Of course, Miami will be ready for everything. The cool thing about the playoffs is you don't only have to plan for what the opponent did in the previous game. You have to assume in advance it will adjust to your adjustments. Who knows, Miami might try to catch Boston off guard by starting the game in man-to-man. The Heat are good at lots of schemes.
Miami in Game 1 toggled between zone, traditional man-to-man, aggressive blitzing, and a switch-everything scheme. Boston had no idea what was coming. The Heat used that switch-everything gambit a lot when Tatum rested, wagering those Boston lineups did not include any one-on-one threat to exploit mismatches.
Boston was more calculated attacking Miami's man-to-man in Game 2. The Celtics understand the inexorable hopelessness of going at Adebayo on the pick-and-roll, and the need to hunt mismatches elsewhere.
Adebayo can handle Walker and Tatum on switches in the pick-and-roll. He devoured both on critical late-game possessions. Adebayo might be the single-best isolation defender in the league. Only P.J. Tucker and James Harden defended more isos this season, per Second Spectrum. Adebayo allows a miniscule scoring figure — 0.78 points per play, so low it's comical — against them.
Theis — Adebayo's man, and Boston's go-to screener — is not a threat to post up any of Miami's guards on the back end of those switches. Boston pivoted to other pick-and-roll combinations that produce friendlier switches: namely Tatum and Walker against any of Duncan Robinson, Goran Dragic, Herro, and even Crowder. Tatum can cook all of them when he is decisive. If Walker can't do the same, Boston is in trouble.
Walker has had a weird postseason. It leaves you wondering about the knee that troubled him at the outset of the bubble. On some nights — Game 2 — he looks like peak Kemba, able to shake anyone. On others — Game 1 — he has trouble getting by defenders that should be no match for him.
The Heat defense puts up a fight when Boston pursues those mismatches.
They are connected, moving as one, in tune with each other. Tatum thinks he has earned the Robinson matchup, but the Heat refuse to concede it. Butler and Robinson complete a canny instant re-switch. Their rejiggering in theory leaves Theis an open lane, but Crowder and Dragic shut it off with well-timed stunts. Gorgeous.
Boston has barely looked to do it, but I might try posting Brown against Robinson, Herro, or Dragic. Brown can bully smaller guys. Miami sent double-teams on a couple of Brown post-ups, exposing easy kickout 3s.
Boston can fool Miami's man-to-man schemes by slipping picks — which also serves to keep its offense out of the mud:
(That deflection by Crowder is a winning play.)
Theis has slipped screens for dunks. Driving away from screens is a time-tested anti-switch device:
Shifting the Walker-Tatum two-man game off the ball can produce easy buckets:
Miami saw all of that and went zone almost the entire second half. The best way to beat Miami's zone is to get stops so they can't set it up.
Which brings us to …
Stopping the Bam dunk parade
The Dragic-Adebayo pick-and-roll destroyed Boston during Miami's roaring third quarter of Game 2. Robinson was a stealth third participant:
In normal circumstances, Brown — guarding Robinson in the weakside corner — is responsible for crashing inside on Adebayo. Boston is face-guarding Robinson everywhere. It will not leave him, period.
(Notice Herro's snazzy in-and-out dribble that drags Enes Kanter an extra couple of feet toward him, decluttering the lane for Adebayo. Spoelstra has entrusted Herro with a lot of ballhandling, and Herro is paying that trust off. Herro with four Miami starters — in place of Dragic in one lineup variant, Robinson in the other — is a foundational part of Miami's rotation. Those two groups are plus-35 in 90 combined postseason minutes.)
Robinson is going to be in that weakside corner a lot by design. If you aren't helping off him, you have three options:
• The two defenders at the center of the pick-and-roll handle it themselves. If Adebayo's guy — Kanter above — knows no help is coming, he probably needs to drop further back in hopes of forcing a floater while staying in touch with Adebayo. Easier said than done.
When Butler orchestrates, Boston should go under some picks.
• The help comes from someplace else. Check out Smart here:
Once again, Brown does not stray from Robinson. Smart is on Butler along the baseline on the strong side — where the ball is. Helping from the strong side is often a no-no. Smart slides in and becomes Boston's third pick-and-roll defender. If Adebayo's guy — Grant Williams there — knows Smart has his back, he can stick closer to Adebayo and prevent the lob. Boston might want to activate that rotation in Game 3.
Miami has lots of methods of making that rotation tougher. Dragic can toss the lob earlier, before entering Smart's vicinity:
In theory, Smart can sprint across the lane there and try to blockade Adebayo's path. If Boston scripts that rotation, maybe Smart — or whoever is in that spot — can pull it off. But that is asking a lot.
Miami also can clear one side of the floor and shift the three spot-up guys around to confuse help defenders:
Smart slides toward Adebayo, only to retreat when he senses Butler's backdoor cut.
If the Heat know that kind of strongside rotation is coming, they will be ready with cuts and passes.
• Boston can switch. Down the stretch of Game 2, Boston stashed Theis on Crowder and put Brown on Adebayo so the Celtics could switch more. On some trips, the Celtics also had Tatum on Dragic and Smart on Butler — allowing them to switch all two-man actions involving Miami's three best players.
That left Walker on either Robinson or Herro. The latter is not a safe hiding place; the Heat can run Herro-Adebayo pick-and-rolls, or shift into the Herro-Butler two-man game — leaving Butler to brutalize Walker on switches.
Robinson is seven inches taller than Walker; he hit one 3 with Walker in his jersey because he can see over Walker. Miami also ran some nifty stuff to exploit Crowder's speed advantage over Theis.
In theory, Miami pivoting more of its on-ball offense toward Crowder is a win for Boston. Miami using anyone but Adebayo as screen-setter leaves him chilling off to the side — where his man can muck up the lane: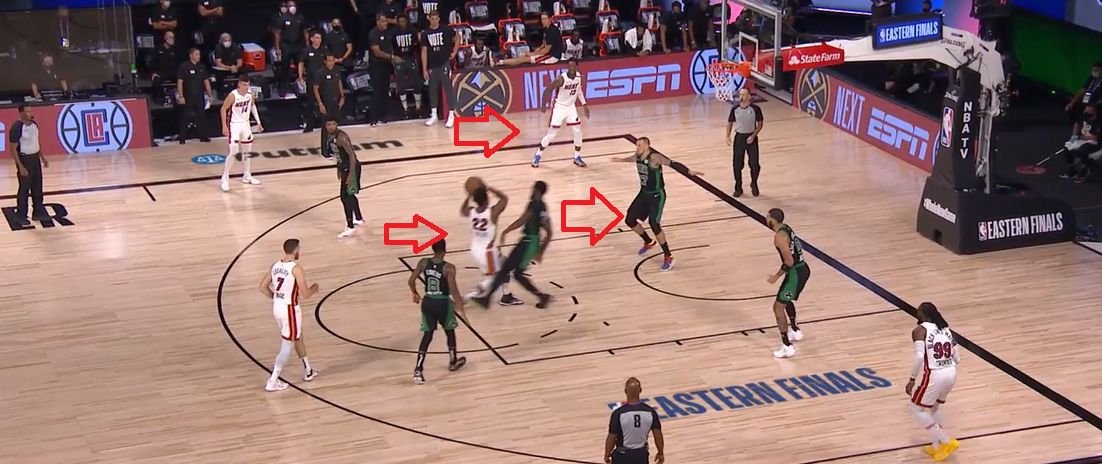 But Crowder has morphed into Klay Thompson in Miami, and the Celtics don't have much time to ride out this prolonged hot streak.
All of this gets easier with Grant Williams as an ultra-switchy center in Theis' place. He can guard Adebayo, allowing Walker to hide on Crowder. Miami might post up Crowder against Walker, but that is not Crowder's game in high volume; he tried once in Game 2, and settled for a fadeaway.
This is also where Boston playing its centerless "five best players" lineup with Hayward might come in handy.
Switching risks Adebayo feasting on the offensive glass, and trucking smaller defenders on post-ups. Adebayo isn't yet a polished post-up threat, but he trucked Giannis Antetokounmpo a few times last round. He might toss some of Boston's wings into the basket stanchion and dunk on their corpses.
Boston can make this a long series, but the Heat have counters to everything. Every possession is a war. The Heat can smell it, and they are giving no quarter.
NBA schedule: Game 3, Sat., 8:30 p.m. ET, ESPN and the ESPN App