We left the NBA just after trade and buyout season. Top teams were incorporating new players and adjusting after injuries.
Here are 13 new or newish lineups I'm excited to watch when the games start.
Shake Milton (!), Josh Richardson, Ben Simmons, Tobias Harris, Joel Embiid: 0 minutes.
Just when I think I'm out, the Sixers — my preseason pick to make the NBA Finals, my siren song — pull me back in. Philly experimented with Al Horford as sixth man before Simmons injured his back. The Sixers liked what they saw — including a Feb. 11 home win (because Philly only wins at home) over the Clippers that was one of the most intense and well-played games leaguewide all season.
The Sixers are minus-9 with Simmons, Horford, and Embiid together, and their offense has disintegrated. Their now-mothballed starting five has scored at the rate of the Bulls' 29th-ranked offense.
It's not that Horford is a bad 3-point shooter, or much worse than Milton, though he has been this season. (Milton is shooting 45% from deep.) But Horford is 6-foot-9, and 34, and has lived most of his basketball life from the foul line in.
It just looked slow and unnatural — like everyone was thinking too much about where to stand. There will be more flow with Milton in Horford's place. Richardson and Harris will find their water levels as ball handlers.
The tradeoff is opponents having a safer haven — Milton — for their weakest defenders, but the benefits should outweigh that. An opposing wing still has to guard Simmons or Harris, giving the Sixers a second bully-ball threat alongside Embiid.
Philly's defense should be fine with Embiid, Simmons, and Richardson. Horford becomes a traditional backup center and the hub of a second-unit offense. We will still see the Horford-Embiid pairing when matchups and situations dictate.
Brett Brown had four choices to replace Horford: Milton, Furkan Korkmaz, Matisse Thybulle, and Glenn Robinson III. Korkmaz is the best pure shooter, and formed a funky pick-and-pop partnership with Simmons. Milton has learned the same action:
Milton has more north-south zip, and the Sixers really need that. He's longer than you think on defense.
Thybulle is a strangler on that end, and the Sixers can use him with this group when they have a lead in crunch time. He's a standstill type on offense, and I understand Brown searching for more shake. (Sorry.) Robinson is meh.
Brown has said in recent interviews he is using Simmons more off the ball, and that gets easier with better spacing and more speed. Simmons is a veteran of the dunker spot, and can be a devastating cutter from outside the arc. He's a nasty screener, and plays that role more with Horford on the bench, per Second Spectrum. The Milton-Simmons pick-and-roll has worked in small doses; Milton has nice touch on entry passes.
Simmons will still have the ball a ton, and he should be more effective with it in this arrangement. (Milton loves to run the wings for Simmons in transition.) The smaller Sixers have made good use of the "snug" pick-and-roll between Simmons and Embiid on the block — a play that works better with three shooters buzzing around it:
Switching creates bad mismatches. Ducking Embiid's pick is dicey, because it allows Simmons to get too close to the rim:
This all makes sense. A Sixers team that makes sense is scary. I can't quit them.
---
Giannis Antetokounmpo at center: 260 minutes, plus-140 (L-O-L)
Maybe the Bucks won't need this tool. Maybe they won't face an opponent who punishes their drop-back defense — centered in most lineups by a Lopez brother — with pull-up 3s and pick-and-pops. Toronto busted through in last season's conference finals, but the main driver of that is now a Clipper.
Brook Lopez has gotten better scurrying around the arc. No Eastern Conference contender has a pick-and-pop center that strikes fear into the Bucks.
But Marc Gasol — 40% from deep — comes close, and still screens for Kyle Lowry and Fred VanVleet. Boston is perhaps the league's best pull-up jump-shooting team, with Kemba Walker and Jayson Tatum raining fire. They are sitting on a centerless lineup that could stretch Lopez thin: Walker, Tatum, Marcus Smart, Gordon Hayward, Jaylen Brown. (In fairness, Lopez has squashed little guys in the post on the other end when opponents go small.)
Most Antetokounmpo-at-center lineups trend small, with Khris Middleton as nominal power forward. (I'm not counting groups featuring Ersan Ilyasova.) That's why Milwaukee's February acquisition of Marvin Williams intrigued: Were they adding size to these lineups without sacrificing speed (as they do with Ilyasova)?
The touchstone of Milwaukee's offense is the same regardless of lineup configuration: Antetokounmpo and shooting. But without Lopez, the Bucks amp up the pace and use more varied screening combinations. Antetokounmpo sets 15 ball screens per 100 possessions with Lopez on the floor, and 22 in centerless groups, per Second Spectrum. Also: Lopez has hit just 29.6% from deep this season. Williams is at 36%, and has drained at least 43% on corner 3s in four of the past six seasons. Guess where Mike Budenholzer likes to put him?
The centerless Bucks might have Kyle Korver or some other shooter screen for Antetokounmpo, and fly into open space:
They might pair two shaky shooters (Eric Bledsoe and Antetokounmpo) or their two best players (Antetokounmpo and Middleton) in pick-and-rolls.
When defenses adjust, the Bucks hunt the weak link elsewhere.
Interestingly, these lineups have lived at the rim. About 42% of their shots have come at the basket, a share that would lead all teams, per Cleaning The Glass. They generate heaps of free throws and offensive rebounds — unusual for the Bucks. Basically, they are smaller lineups that play like bigger ones thanks to speed and spacing. They haven't sacrificed anything on the defensive glass, perhaps because opponents downsize too.
Smart defenses will barricade those paths to the rim by abandoning Milwaukee's weakest shooter — as the Heat do against Donte DiVincenzo (34% on 3s) below:
The Raptors ignored Bledsoe. Against the best competition, Milwaukee might want to minimize the time Antetokounmpo plays with two or more of its so-so shooters. These lineups represent one pathway there.
---
Russell Westbrook, James Harden, Eric Gordon, Robert Covington, P.J. Tucker: 45 minutes, plus-9
This is Houston's apex lineup after going all-in on a turbocharged, centerless style.
Houston excising big men feels radical, but it is less about size than skill. Harden's step-back 3, a revolution almost on par with the rise of Stephen Curry, rendered Clint Capela's pick-and-roll screening irrelevant. Capela's new job was scrounging lobs around the basket. That was fine so long as all three Rockets surrounding Harden and Capela could shoot 3s. Exchanging Chris Paul for Westbrook added another non-shooter.
Defenses responded by doubling Harden everywhere. Capela had to go. Houston would have welcomed a well-rounded center who shoots 3s. None were available. Covington — a snug fit on both ends — was.
The redesign benefited Westbrook most. He ditched 3s and rampaged through open driving lanes when defenses crowded Harden. Westbrook has averaged 31 points on 53% shooting since Capela's last appearance. He is a sneering blur hunting hammer dunks. (It goes without saying that we have to see how Westbrook and every other player recovering from the coronavirus look on the floor, and that their health is more important than basketball.)
All four of Harden's teammates in this group are capable screen-setters; Harden can simply pick out the weakest opposing defender:
Note Westbrook in the corner nearest Harden. Westbrook's defender sticks close, because that is what you do in the strongside corner. Smart postseason defenses might help off Westbrook no matter where he is. A few opponents have stashed centers on Westbrook, and planted them near the rim. Most stick centers on Tucker, and dare Tucker and Westbrook to beat them with above-the-break 3s:
Complex Houston-specific defenses can work, but scrapping entrenched habits on the fly is hard. Utah's defense collapsed in a heap of confusion against Harden in last season's playoffs. That is part of Harden's power: He warps the rules. Westbrook is also a sneaky baseline cutter when ignored.
Gordon is critical. He hasn't shot above 36% on 3s since 2016-17, and is down to a puzzling 32% this season. His theoretical ability to hit ultra-deep 3s provides oxygen for Harden and Westbrook. Gordon and Tucker have delightful off-ball chemistry:
Gordon is a bulldozing driver — another late clock option.
This group will sink or swim with its ultra-switchy defense. Lineups featuring both Tucker and Covington have been stingy so far. They defend the two most dangerous scorers almost regardless of position, leaving awkward matchups elsewhere. Harden will guard some centers.
The Rockets don't mind mismatches in the post. They are cagey fronting, with help lurking behind. (Nikola Jokic, the best big man passer ever, could be the ultimate test of Houston's defense in one potential first-round matchup.)
The Rockets also understand mismatches down low don't matter if you've killed 20 seconds generating one; you don't have time to exploit it. Some bigger teams go small — surrendering their size advantage — to keep up with Houston.
Houston's transition defense, long a vulnerability, has tightened since the trade deadline. The Rockets are faster, less worried about matching up. They have to sustain that, especially when Westbrook and Tucker chase offensive rebounds. Both are great at that. Tucker tosses people out of the way like George Costanza fleeing a (not really) burning home. But they have to pick their spots, and the other three Rockets need to sprint back.
All five of these guys are handsy. Houston ranks third in forcing turnovers since the start of February.
They are wobbly on the glass. Perimeter defenders have to hang around the foul line for long rebounds instead of leaking out.
A lot of this comes down to Westbrook and Harden not being weak links on 15 or 20 possessions every game. They can dial in when they want to. Pairing them — and dividing the scoring burden between them — was meant to help each preserve energy for defense. Houston might have the highest upside among the Rockets/Nuggets/Jazz/Thunder/Mavericks logjam — the best chance at pushing the Los Angeles teams — but they'll only hit if they commit to defense every trip.
---
Seth Curry/Tim Hardaway Jr./Dorian Finney-Smith/Luka Doncic/Kristaps Porzingis: 122 minutes, plus-30
Dwight Powell's Achilles tear robbed Luka Doncic of his preferred pick-and-roll partner — one of the league's relentless rim-runners. It was the rare role player injury that threatened a team's structural integrity.
The Willie Cauley-Stein experiment lasted 13 games. Maxi Kleber likes to screen-and-dive, but he's not quite as dynamic as Powell.
The Mavs adjusted by playing more with Porzingis as their only big man and Doncic's main pick-and-roll dance partner. Porzingis rolls to the rim about twice as often in these alignments, per Second Spectrum, but that's not his bread and butter; he prefers to pop for 3s. There was some concern about how these lineups would pressure the rim.
Welp. The Mavs have poured in 123 points per 100 possessions with Porzingis as solo big, seven points better than their overall offense — on pace to be the most prolific of all time. Opponents can't double Doncic and leave Porzingis to feast on open 3s, so they often switch. Doncic eats big men alive on those switches. It's honestly kind of cruel. He steps out, sometimes literally licks his lips as if he's about to devour a steak, and chooses between a step-back 3 and a burrowing drive.
The Mavs feed Porzingis some token post-ups against switches, but those haven't worked. As every Knicks fan still trying to rationalize the Porzingis trade is happy to tell you, he settles for soft fadeaways. Dallas has scored just 0.83 points per possession when Porzingis shoots out of the post or passes to a teammate who fires — 102nd out of 121 players with at least 25 post touches, per Second Spectrum. Somehow, that number drops against guards.
He has been more diligent darting to the rim when teams trap Doncic:
Porzingis has improved his playmaking when defenses swarm the arc:
Dallas spices things up with actions centered around Hardaway and Curry:
They often start possessions by having a guard screen for Doncic and cut to the rim — another method of penetrating the paint and generating juicy switches. (Doncic beasts little guys.)
Variety is healthy, because smart defenses will hide their centers on Finney-Smith and guard Doncic and Porzingis with like-sized players — making that switch less painful.
This group has been surprisingly stout on defense. Finney-Smith takes the most dangerous wing or power forward. Any opponent with two major scoring threats in that positional spectrum poses a problem, but such teams are rare. Unfortunately, the Clippers — Dallas' most likely first-round opponent — are one. The Mavs had Hardaway guard Paul George in their lone matchup against the full-strength Clips.
Hardaway (mostly) competes. Curry is a pest. Dallas concedes few easy baskets. The Mavs avoid turnovers, and have been one of the league's most attentive transition defenses.
These lineups have been predictably unreliable on the defensive glass. Slotting Delon Wright for Curry adds size and versatility. Wright is a good player who hasn't found his comfort zone in Dallas, in part because he passes up a maddening number of open 3s. Kleber will play a bunch — he's really good! I'd also expect the Mavs to experiment in scrimmage games with one of Justin Jackson, Michael Kidd-Gilchrist, and even Antonius Cleveland as screen-and-dive guys while Porzingis hangs around the arc. I'm skeptical any of those three aside from maybe Jackson gets consistent rotation minutes in meaningful games.
---
Zion Williamson as lone big man: 48 minutes, plus-19
This is the "Are you not entertained?" of NBA lineups. No one comes out unscathed. Bodies and limbs move so fast, you can't really tell what is happening.
New Orleans has averaged 111 possessions per 48 minutes with these groups on the floor, so much faster than the fastest team ever that this almost isn't basketball anymore. The most common such group — Lonzo Ball, Jrue Holiday, Brandon Ingram, Josh Hart, and Williamson — features five players who can grab-and-go. (Note: I am not counting lineups featuring Williamson and Nicolo Melli.)
Good luck to anyone trying to stop Williamson once he gathers momentum:
All Ball wants to do in life is throw full-court passes — the more challenging, the better.
In the half-court, Williamson going one-on-one with four perimeter threats around him is a recipe for easy points. (Williamson is a creative, anticipatory passer, though he can be a little wayward slinging on the move.) Ball is up to 38% from deep, and was firing with wild confidence when the season stopped. He and Williamson already have a mind meld on those alley-oops when Williamson suddenly spins out of a post-up, and leaps to the rim.
Every member of this lineup can blow by defenders rushing to close out at the arc, and then make the next pass.
This group should be switchable on defense, which could be useful if Williamson is still lead-footed navigating traditional pick-and-roll coverages:
Williamson has a shockingly low defensive rebounding rate, and that has to change for these groups to work. Hart and Ball are plus rebounders.
Swap JJ Redick in for Ball and the overall shooting approaches the point at which this lineup should be unstoppable. Redick and Williamson have scratched the surface of a nifty two-man game, with Redick rocketing off Williamson screens on one side: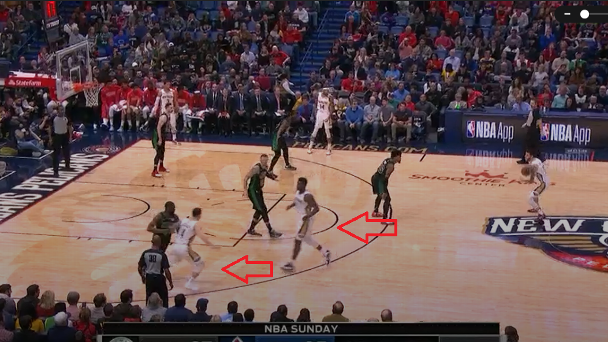 If that screen hits, you are toast. Double Redick, and Williamson might tear the basket down.
That Redick lineup has logged one solitary minute, likely because Alvin Gentry doesn't trust it on defense. E'Twaun Moore has been a useful alternative.
I'm not saying Williamson's future is as a full-time center. The beauty of superstars — even superstar bigs — is that they are so good, they can play with anyone. The Pellies have obliterated teams with the Williamson-Derrick Favors duo.
But slotting Williamson at center should become part of their diet, and the Pelicans have the goods to get there now.
---
Mike Conley/Donovan Mitchell/Joe Ingles/Royce O'Neale/Rudy Gobert: 14 minutes, plus-8
The loss of Bojan Bogdanovic appears catastrophic. (My pessimism is on record.) Opponents outscored the Jazz with Bogdanovic on the bench. Bogdanovic's profile is unique on this roster: high-volume gunner who doesn't need the ball, with size to defend opposing power forwards. On a team of sometimes ponderous thinkers, Bogdanovic's lack of conscience from deep is a needed ingredient. A lot of Utah's scripted plays revolve around his catch-and-shoot game.
But after digging into the film, I'm more hopeful. Playing full-time without Bogdanovic is different than cobbling 18 minutes with him on the bench every game. The Jazz have had time to plan.
Those on/off numbers might be misleading. Bogdanovic is tethered to Gobert. They have logged 1,911 minutes together, more than any player pair.
Utah has a ton of plus ballhandling between Mitchell, Conley, Ingles, and Jordan Clarkson. Homogeneity can look like a weakness: Too many guys need the ball. But without the luxury of variety, homogeneity becomes a strength. Utah can rev up the spread pick-and-roll machine, and drive-and-kick its way to good looks. Possessions might last a little longer without Bogdanovic to finish them, but the Jazz can still be profitable.
Conley was surging when the season stopped. He slowly built pick-and-roll chemistry with Gobert.
Ingles and O'Neale have to take up Bogdanovic's job as secondary screener; Ingles has mimicked Bogdanovic's role in some of Quin Snyder's pet actions. O'Neale improves his catch-and-go game every season:
O'Neale can't just chill in the corners now, so it's a good thing he's jacking way more non-corner 3s — and hitting 40% of them.
One downside: O'Neale has to defend more power forwards instead of smothering the best opposing wing. But scan opposing rosters and you realize that isn't really an issue for the Jazz unless they face the Lakers at some point.
Leaning on this lineup would also allow Snyder to keep together a bench trio — Clarkson, Georges Niang, and Tony Bradley — that has mauled teams.
Don't dismiss the Jazz.
---
Bonus lineups
Alex Caruso/Kentavious Caldwell-Pope/Danny Green/LeBron James/Anthony Davis: 33 minutes, plus-12
Is this L.A.'s best remaining lineup? It might be, though Kyle Kuzma has a say. The Kuzma/James/Davis trio has blitzed opponents by 19 points per 100 possessions in 233 minutes. Both Laker centers — JaVale McGee and Dwight Howard — have done their jobs all season.
Goran Dragic/Duncan Robinson/Jimmy Butler/Jae Crowder/Bam Adebayo: 27 minutes, plus-15
I'm less interested in this specific group than which Bam-at-center lineups Erik Spoelstra ends up preferring. It's trickier than you'd expect finding the right mix of shooting, size, and defense. It feels icky excluding Andre Iguodala, but sliding him in for Robinson or even Dragic — who is having a sensational season — slashes the shooting to critical levels. Crowder is more willing to launch, and heftier on defense.
Adding Derrick Jones Jr.'s length also harms Miami's shooting. Kendrick Nunn can do a little of everything, but doesn't excel at anything.
Patrick Beverley/Paul George/Kawhi Leonard/Marcus Morris Sr./Montrezl Harrell: 11 minutes, minus-4
Those first four with Ivica Zubac — L.A.'s starting lineup — are a gargantuan plus-51 in 124 minutes. This lineup is a fun alternative. If you want ballhandling, toss in Lou Williams for Beverley or Morris.
LA Clippers II
Morris at center
We've barely seen this, but it looms as a wild card — perhaps against Houston.
Aaron Holiday, Malcolm Brogdon, Doug McDermott, T.J. Warren, Domantas Sabonis: 21 minutes, plus-12
The Pacers will be short on backcourt options if Victor Oladipo sits out. (Jeremy Lamb is injured.) The double-big Sabonis/Myles Turner look has worked well enough, but the Pacers have been a little better — and more fun to watch — when they go smaller around Sabonis.
The same concept works with Justin Holiday in place of his brother or McDermott, but the Pacers lose some entertainment value. Aaron Holiday is a fearless, little wrecking ball. McDermott and Sabonis have one of the league's snazziest wink-wink two-man partnerships. Warren has grinded on defense after loafing in Phoenix.
De'Aaron Fox, Buddy Hield, Bogdan Bogdanovic, Harrison Barnes, Marvin Bagley III
This group profiles … umm, poorly on defense. Bagley has looked out of sorts regardless of position; he can't protect the basket at center, and has struggled to chase stretchy power forwards. He has the speed to be a switchable center, but the personnel on the other end of those switches — Fox and Hield — does not lend itself well to that scheme.
This isn't a winning lineup today, but it's worth trying.
Ja Morant, Dillon Brooks, Justise Winslow, Jaren Jackson Jr., Brandon Clarke
Test out the new toy, Taylor Jenkins!