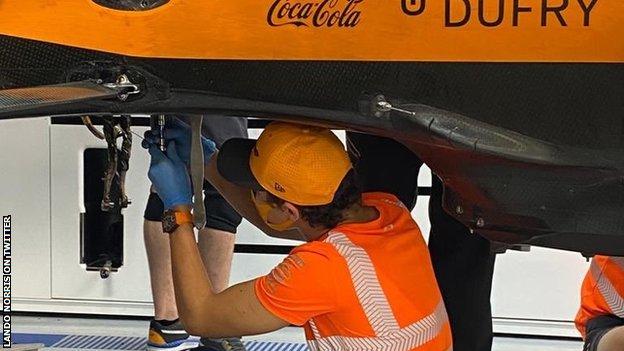 The race over, and their engineering and media commitments finished, many Formula 1 drivers would rush off to a private jet for the quickest route home.
Red Bull's Max Verstappen and Renault's Daniel Ricciardo did exactly that after Sunday's Hungarian Grand Prix, sharing a flight back to Monaco.
Not so McLaren's Lando Norris.
Instead, the 20-year-old got down and dirty helping out his McLaren mechanics as they stripped down his car.
Norris posted a picture of himself on Twitter underneath his car in the garage at the Hungaroring, screwdriver in hand.
"If you want to go fast, go alone," he wrote. "If you want to go far, go together." – three long weeks for my team. Thought they could use a couple more hands."
Perhaps Norris was feeling a bit guilty.
After starring performances in the first two races of the season in Austria – where two flying final laps netted him his first podium and a fifth place to leave him third in the championship behind Mercedes drivers Valtteri Bottas and Lewis Hamilton – Hungary did not go so well for Norris on Sunday.
He qualified in eight place, but what he called "probably the worst start I've ever got in my life" left him 14th at the end of the first lap. And the rest of the race did not go much better, and Norris finished a disappointing 13th.
"I just screwed everything up and it's such a difficult track to overtake on," Norris said. "I couldn't do anything more after that. I tried coming back, but 13th was the best I could do."
Perhaps the extra work came because Norris felt he let the team down after three gruelling race weekends in a row. If so, McLaren have certainly not held it against him.
As communications director Tim Bampton wrote on Twitter: "How often do you see an F1 driver helping his crew strip down his own car after a race? Lando Norris take a bow."
And, after all, Norris is still fourth in the championship as the sport takes a rare weekend off in a run of nine races in 11 weekends – with more to come.
As Norris said: "We've had a pretty awesome first three weekends in 2020."