The NBA bubble is in full swing. The race for the No. 8 seed in the Western Conference looks loaded, and Toronto Raptors are reminding people not to sleep on the defending champs.
Now that we are one week into this grand experiment in Lake Buena Vista, Florida, let's take a look at the players who are thriving in an unprecedented environment. Here is the way-too-early all-bubble team, featuring two guards, two forwards and one center — just like the real thing.
MORE: What we're seeing and hearing inside the NBA bubble
---
Booker's buzzer-beater Tuesday to upend the LA Clippers was an incredible moment. He made a huge shot on a huge stage against a premier opponent. But Booker is no one-hit wonder — he's one of the best young scorers in the NBA. He also has led the Suns to a surprising 3-0 record.
Booker is averaging 30.7 points in part because he's hitting 45% of nearly seven 3-point attempts per game. Everyone knows this guy can score, but he's showing us his potential for efficiency, too. He might pull off a 50-40-90 one season. If he keeps this up, the Suns — now just 2½ games back of No. 8 in the West — could shock the world and make the playoffs.
---
Of course, Lillard is in prime form for this Portland playoff push. We've come to expect greatness from Lillard in big moments, and in these high-leverage games in Florida he has been terrific. But he has done it in distinctive ways.
Even in games when his shot hasn't been falling, Lillard has lifted his teammates via assists and defensive effort. Not only did Lillard have 16 dimes against Boston, but he guarded Jayson Tatum for much of the second half, holding him to four points in 28 matchups, per Second Spectrum tracking. And on Tuesday he marked James Harden on 22 possessions — often in one-on-one situations — holding The Beard to only five points on six shots, all while leading Portland in scoring on the other end.
He's also averaging 11 dimes, tied with Luka Doncic for most in the bubble. If Portland sneaks into the postseason, it will be because of Lillard's ability to maintain this high-level playmaking. Pro tip: Don't bet against Dame.
---
Folks, Warren loves the bubble. Just a year after the Suns essentially handed Warren's contract to Indiana, the 26-year-old forward has emerged as one of the best stories of the restart. Nobody expected the Pacers to win their first three games in the bubble, but then again, nobody expected Warren to be the hottest hand in the Magic Kingdom.
The dude is on fire, leading all scorers in the bubble by averaging 39.7 points and making over 65% of his shots.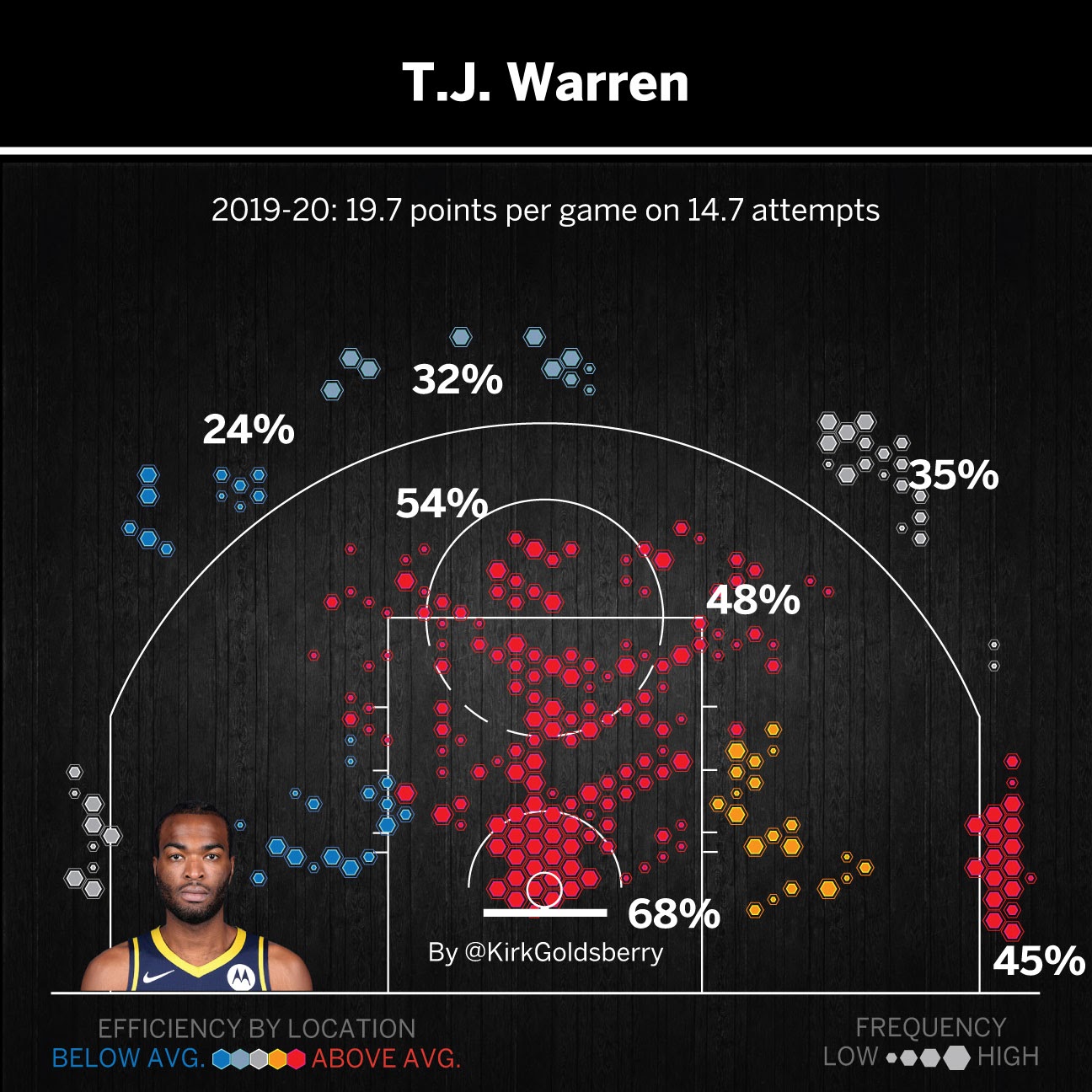 His 3-point shooting has been the biggest surprise. Warren has always been a talented scorer, but his range was his kryptonite. Coming into the bubble, Warren had never made more than four 3s in a game, but then he nailed nine of them Saturday night in a victory over the Philadelphia 76ers.
Warren's numbers can't possibly stay this hot, but this guy has legitimate All-Star potential.
---
The three biggest favorites heading into the restart — the Milwaukee Bucks, Clippers and Lakers — have not been great, combining for a record of 3-6. Then there are the defending champs, sitting at 3-0 and holders of the NBA's best record since Jan. 1. The Raptors have been at their best when Siakam has been on the floor, posting an eye-popping net rating of plus-29.3 in his 76 restart minutes.
Siakam has become one of the league's finest two-way players. Not only does he lead the Raptors in scoring this season, but he's also a versatile defender who blends speed, strength and length as well as anyone in the league.
One thing to watch: Siakam has been excellent running pick-and-rolls. With Siakam as the ball handler in 27 ball screens, Toronto is averaging 1.36 points per chance — the second most of any player in the restart.
---
C: Joel Embiid | Philadelphia 76ers
Philly hasn't looked great, but Embiid certainly has. The Sixers are 2-1. As they desperately try to coalesce in the bubble, Ben Simmons' knee injury is a huge concern, but Embiid's performance has been awesome. He has dominated games on both ends, averaging 32.7 points and 13.7 rebounds. Those are Shaq-like numbers.
How important is Embiid to Philly's overall success? The Sixers have a net rating of plus-9.3 when he has been on the court in the bubble; that slips to minus-18 when he's not. Yes, that's based on a small sample, but it's also a painful callback to last year's postseason, when the Sixers were 40 points per 100 possessions worse when Embiid sat.
If the Sixers flame out this year, don't blame Embiid.