As we approach the 2020 postseason, the NBA title remains fully up for grabs. No one should be considered a clear favorite to win it all, and given the quirks of the bubble environment, more teams than ever are heading to the playoffs with visions of triumph. But one reason there's no front-runner — such as the Golden State Warriors in recent years — is that all these teams have weaknesses, and some of these flaws will inevitably end their seasons.
With all but one playoff spot secured, let's roll through our second annual hater's guide for the postseason locks.
---
The East
Milwaukee Bucks: Giannis' stroke
Most of the Bucks' stats are awesome, but whenever opponents turn Giannis Antetokounmpo into a jump shooter or challenge him to beat them at the line, he's not so scary.
Consider this:
Out of 127 players who have taken at least 300 shots outside the paint, Antetokounmpo ranks 118th in efficiency, managing an effective field goal percentage (eFG) of just 43.6%, per Second Spectrum.

Out of 27 players who have taken at least 300 free throws this season, Antetokounmpo ranks last in conversion rate (63%).
In a brutal loss to Dallas on Saturday, Giannis had a stretch in which he missed seven straight foul shots, featuring two air balls. This dude and this team are consistently great. But in the toughest matchups, Antetokounmpo's shooting could swing things.
Toronto Raptors: Shot creation
Can this offense get it done? The Raptors have the 20th-best offense in the restart and no Kawhi Leonard. There's a reason players such as Michael Jordan, Shaquille O'Neal and Tim Duncan were so successful in the postseason: They created their own buckets in intense moments. Leonard provided that juice in 2019, but who does that for this year's squad?
It takes a leap of faith to expect Pascal Siakam, Kyle Lowry or Fred VanVleet to fill that role. The Raptors don't feature a single player who has run at least 100 isolation plays while averaging 1.0 points per chance. Most of the other contenders do.
Boston Celtics: The MVP
The Celtics are loaded with perimeter threats, but Giannis Antetokounmpo still eats Boston for lunch. In their three matchups this season, Giannis has averaged 20.7 points per game … in the paint alone.
Boston's wings aren't quite big enough to thwart Antetokounmpo's drives, and the bigs aren't physically able to stifle him at the rack. It's a big reason why the Celtics have lost six of their past eight to Milwaukee.
With the Bucks and Celtics starting on opposite sides of the East bracket, Boston's best hope to make the NBA Finals is Milwaukee getting upset in the second round.
Miami Heat: Jimmy's buckets
This is one of my favorite underdog teams in the bubble, but their best player can't make jumpers.
Jimmy Butler is among the league's most tenacious competitors. He's also the not-so-proud owner of the NBA's most crooked jump shot.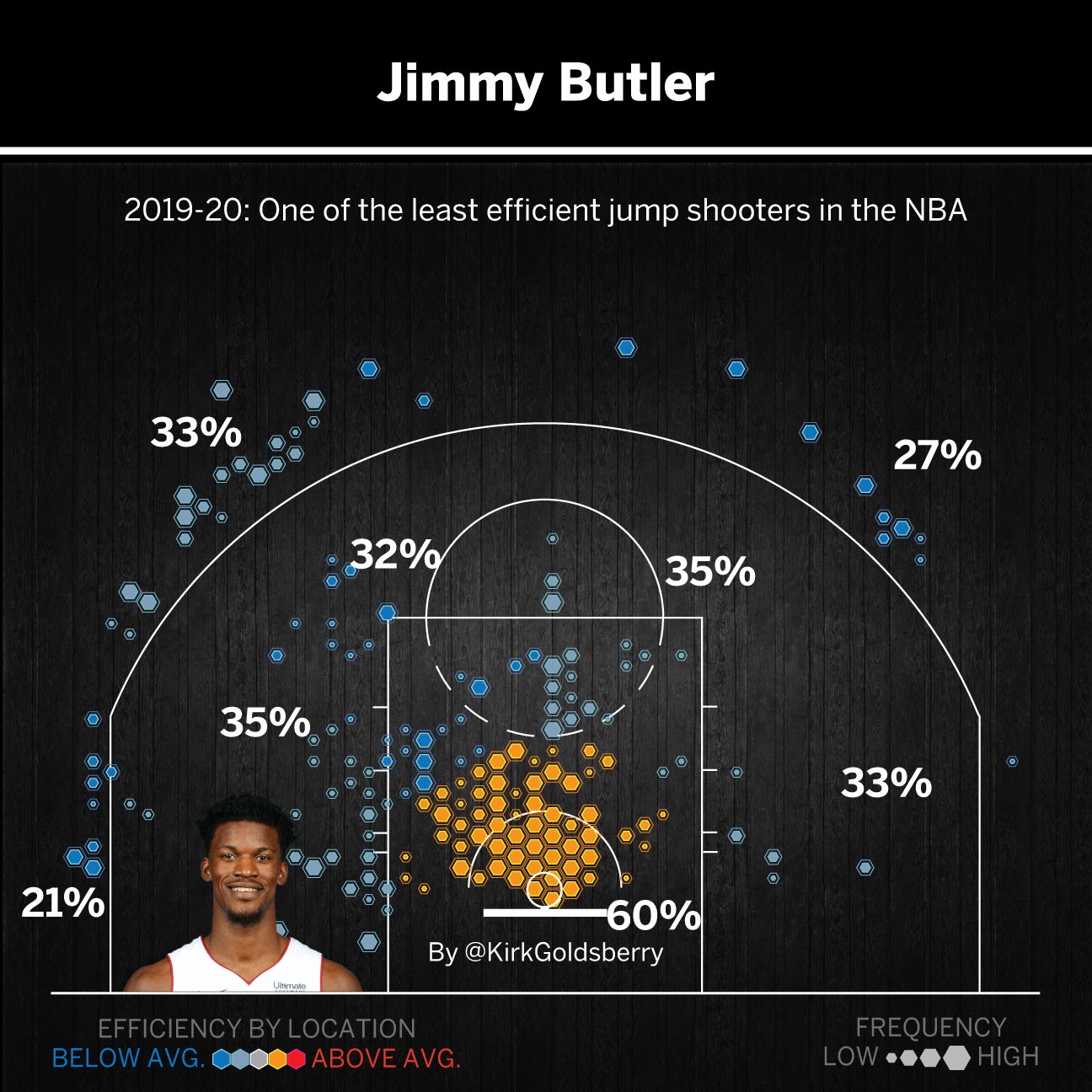 Out of 154 NBA players who have taken at least 250 jumpers this season, Butler ranks last in efficiency by a mile. He's logging a ghastly eFG of just 33.4% on his 262 attempts. Even Russell Westbrook at second worst is hitting 39.9%.
Somehow, Butler escapes the mainstream ridicule that haunts shooters such as Westbrook, Antetokounmpo and Markelle Fultz, but all of those guys have been way more accurate this season. You can bet postseason opponents will dare Butler to get buckets with that wonky J.
Indiana Pacers: Shot diet
Here are two issues that can slow down the T.J. Warren experience:
Nate MacMillan and his staff are among the most unheralded coaches in the league, but these two markers also suggest they are a bit behind the curve when it comes to finding the cheapest points on the floor. (Haven't they watched James Harden?) This team has the makings of something special, but they must improve their perimeter shooting and their ability to get to the stripe before they become legitimate threats.
Philadelphia 76ers: The fit
The Sixers are the team that I hate to love. Philly is loaded with awesome individual players who just don't mesh. Championship NBA teams always coalesce into something greater than the sum of their parts, but these Sixers just feel like a collection of mismatched pieces slogging their way through games.
Al Horford and Josh Richardson haven't done a great job of replacing Jimmy Butler and JJ Redick. And with Simmons now expected to miss the postseason, the Horford move becomes even more problematic. It's hard to fathom how this team will create offense without their young catalyst.
Simmons led the league in 3-point assists despite being surrounded by a mediocre crop of shooting talent. With him out, how in the world will this team create easy looks?
Brooklyn Nets: Who he play for?
Are you excited for Chris "Cheese" Chiozza's postseason debut? No? Well, the Nets might not be for you.
No offense to Cheese, but we thought we were getting Kyrie Irving and maybe even Kevin Durant by this point, and here we are watching Chiozza running around in sets designed by an interim head coach.
Who are these fellas? Why are they here? The Nets' future is bright, but maybe one of these West play-in contenders should have their spot.
Orlando Magic: … welp
These dudes play the Bucks in the first round. They're toast.
The West
Los Angeles Lakers: All the bricks
The Lakers have been cold as ice in the restart, ranking 20th in net rating and 21st in points per possession. These aren't good indicators for a title contender.
The biggest problem has been shotmaking, especially from deep. They're barely knocking down 28% of their triples, which is a bubble worst. The Lakers' role players are going to have to start replicating Kyle Kuzma's clutch performance from Monday for this team to reach its ultimate goal.
LA Clippers: On-court chemistry
We have barely seen these guys play together.
Lineups featuring all four of Kawhi Leonard, Paul George, Montrezl Harrell and Marcus Morris Sr. have logged only 34 total minutes this season. It takes a healthy dose of irrational confidence to assert that any group of players — no matter how talented and versatile — is suddenly going to coalesce into the best crunch-time squad.
The good news is that the Lakers have similar issues. The bad news is that both top contenders in the East have loads of experience playing together. The Clippers are going to need to figure some things out on the fly.
The Denver Sieves
The two best offenses in the bubble have been the Portland Trail Blazers and whomever is playing the Denver Nuggets. Portland leads all bubble teams by scoring 120.9 points per 100 possessions … but the Nuggets' defense is allowing a ghastly 121.5.
That's a giant red flag. It won't matter how healthy Gary Harris and Will Barton are if this team doesn't start getting more stops. The Nuggets likely will face a really good team in the first round, and that'll be the only team they face this postseason without locking in on defense.
Houston Rockets: The interior
Houston's microball experiment is certainly fascinating, but will it work in the playoffs?
The truth is that nobody knows. Houston is 10-6 since the All-Star break and has put up a remarkable 49 3-point tries per game, but there are many reasons to be skeptical here. Not only are the Rockets now the worst rebounding team in the NBA — grabbing just 45.5% of available rebounds since their roster makeover — but their interior defense has also been the most generous to opponents.
It's hard to fathom Houston getting past either Los Angeles team if it can't get boards or protect the rim.
Oklahoma City Thunder: Paint production
The Thunder have trouble pressuring the rim, which is a key ingredient to playoff success. No OKC player ranks in the top 25 in points in the paint, and the team's interior production has been an issue in the restart:
The Thunder rank last in the bubble by making just half of their paint shots

They rank second to last in paint production, yielding just 39 points per game
OKC's most active paint shooters in the bubble have been Luguentz Dort, Hamidou Diallo and Shai Gilgeous-Alexander — not exactly a terrifying bunch. All three of these guys are making less than 45% of their paint attempts (the league average is 56%). Steven Adams is a monster inside, but he's not enough by himself.
Utah Jazz: Some help for Mitchell
As soon as Bojan Bogdanovic was done for the year, Utah's offense became a giant question. At this point in the bubble, the Jazz have no good answers.
Utah is managing only 108.4 points per 100 possessions. That's bad and a big reason why they are just 2-5 in Orlando, Florida. Donovan Mitchell is a great offensive piece, but none of the team's wings or bigs can create offense. That's a real flaw in a brutal conference teeming with superstars who can do just that.
Dallas Mavericks: Easy 3s
Luka Doncic is phenomenal on offense, but he doesn't do much to help the Mavericks on the other end yet. Dallas plays above-average defense when he is on the bench and below-average defense when he's on the court.
Down in Orlando, Mavs' opponents are thriving on the perimeter, making 40% of their 3s in part because they are wide open. Doncic plays a role there. The league average for contest rate on 3s is 86.3% this season, per Second Spectrum tracking. When Doncic is on the floor, Dallas' contest rate is just 82.7%. That's the worst mark among the major MVP candidates.