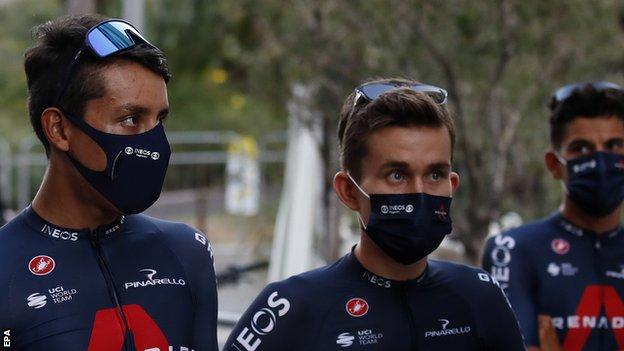 "Nobody knows" if the Tour de France will reach the finish on 20 September following an increase in coronavirus cases in the country, says Ineos Grenadiers boss Sir Dave Brailsford.
The three-week race, originally set to start on 27 June, gets under way on Saturday in Nice – one of 19 new regions to be put under alert.
Daily Covid-19 cases have reached a new post-lockdown high in France of 6,111.
"We don't know if we're going to reach Paris," said Brailsford.
"We've been working with (organisers) Amaury Sport Organisation and they really have done everything possible to make the event work.
"We can minimise risks quite significantly. Before Covid came along we had our programme to minimise the risk of injuries and illness.
"It involved cleaning TV controllers [at the hotel], for instance. So for us, the added element is that we need to wear a mask, it's not such a big change."
Nice hosts the start and finish of the first two stages on Saturday and Sunday but Jean Castex, the French Prime Minister, said: "We have taken numerous precautions and health protocols and I'd remind you that this is an open-air event.
"The places where the virus spreads and there is transmission have no organisation. The Tour has an organiser."
However, on the decision to put Nice on red alert, he added: "The pandemic is regaining ground and now's the time to intervene.
"France must do everything to prevent a new lockdown."
Riders and team staff members were tested for Covid-19 six and three days before the start of the race. Four members of the Lotto Soudal team were sent home on Thursday after a mechanic and a caretaker tested positive.
On Friday, the International Cycling Union (UCI) announced that teams can be excluded if two riders from the same outfit test positive for Covid-19 within a seven-day period during the race. The sport's governing body said the decision to exclude a team will not be automatic and will have to be made by race organisers.
Ineos are pinning their hopes on defending champion Egan Bernal and 2019 Giro d'Italia victor Richard Carapaz.
Chris Froome, 35, suffered horrific injuries in a major crash last year and Brailsford said the Tour had come "a bit early" for the four-time winner, while 2018 champion and fellow Briton Geraint Thomas, 34, has been lined up for an assault on the Giro d'Italia title in October.