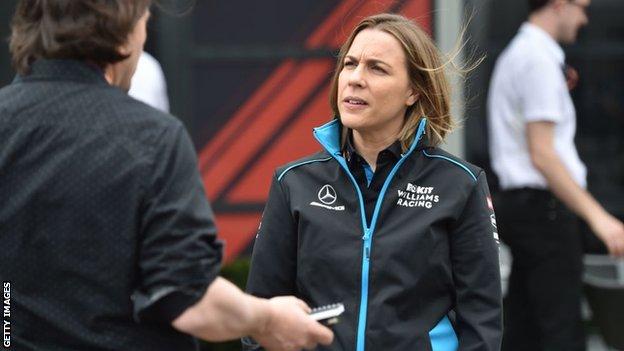 Simon Roberts has been appointed acting team principal at Williams following the decision of the family who founded the team to step down.
The 57-year-old joined Williams in May as managing director from McLaren, where he had spent 17 years.
Roberts will run Williams while new owners Dorilton Capital, an investment group who bought the team last month, search for a permanent team boss.
The team have also said chief executive officer Mike O'Driscoll will retire.
Roberts spent 14 years as operations director of McLaren, punctuated by a secondment to the Force India team in 2009, before becoming their chief operations officer in 2017.
He said: "It is an exciting time ahead for the team, a new era for Williams and one that I am excited to be playing a part in. I look forward to the challenge ahead as we look to take the team back to the front of the grid."
Claire Williams left her role as deputy team principal after Sunday's Italian Grand Prix, the final race of involvement with the team for the Williams family.
Williams in its current form was founded by Sir Frank Williams when he joined forces with his partner Patrick Head in 1977, after nearly a decade struggling at the back of the field.
The pair went on to forge Williams into the third most successful team in F1 history, winning seven drivers' championships, nine constructors' titles, running some of the sport's most successful drivers and creating some of history's most iconic racing cars.
Sir Frank remained team principal in name until last weekend, but had been too unwell to run the team on a day-to-day basis for some years, with daughter Claire filling that role.
She worked closely with O'Driscoll, 64, who joined Williams in 2011 and has been CEO since 2013.
A statement said O'Driscoll would "support the smooth transition of ownership through this year and ensure the team is will positioned to build for the future".
No specific date has been provided for his departure – O'Driscoll will stay on as long as is needed for the team to stabilise under its new management.
Before joining Williams, O'Driscoll had a long and successful career in the car industry with Jaguar, rising to become managing director.
New Williams chairman Matthew Savage said O'Driscoll had "steered the corporate side of the group admirably through challenging times and has been invaluable in preparing Williams for the next exciting phase".
O'Driscoll said: "It has been and remains a huge privilege to be part of this great team. I am proud to have played my part in securing the long-term future of Williams and look forward to working closely with Matthew and his team, to ensure a smooth transition and the best possible trajectory for the team's future success."